Galfond Challenge: Three More Wins, $350K Lead for Kornuth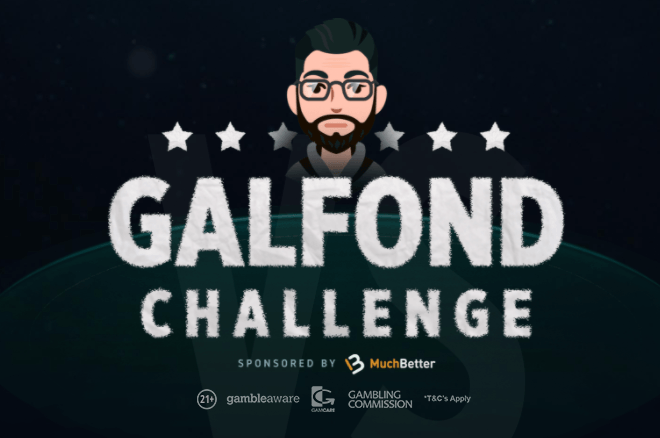 Phil Galfond is no stranger to big deficits in the Galfond Challenge, so he likely isn't exactly shaking in his boots when he sees the deficit he's facing against Chance Kornuth.
Still, Kornuth has done fine work thus far, and he has to be feeling good about where he's sitting. With almost 10,000 hands in the books, Kornuth has grabbed a lead of around $350,000. Considering he was a sizable underdog to kick things off, that will stand as a surprising result to most observers.
With a 35,000-hand schedule, though, plenty of time remains for Galfond to right the ship.
Want to know everything about the Galfond Challenge? Check out thePokerNews Galfond Challenge page for more information!
Day 16
Kornuth jumped on Galfond early with five-figure pots on both tables, winning each without showdown. He added to his early edge when Galfond three-bet and continued for $1,200 on
. Kornuth raised pretty big to $4,600 and Galfond potted. They got stacks in with Galfond's $24K at risk, but he was coolered with a set of sevens no good against top set.
Galfond earned almost a full stack back when he called a three-bet in position and faced $1,800 on
. He raised to $4,400 and Kornuth called, bringing the
. Both players checked and Kornuth potted the
river. Galfond went way deep into the tank before clicking call, and Kornuth had
for a bluff, which Galfond had beaten with
for a flopped set.
There weren't a ton of huge pots following that, but Kornuth worked his way up to about a $40K win. He added to that significantly when he peeled a three-bet and bet $1,200 on
in position. Galfond check-raised to $4,600 and Kornuth called, bringing a
that made a board rife with possibilities. Galfond potted for $12,800, just over half his remaining stack. Kornuth popped the rest in for a $60K pot.
Kornuth:

Galfond:
Galfond had a set and a flush draw but bricked the
river to lose to the set.
The players were more than $31K deep when a massive hand went down that saw Galfond put in the four-bet and call the rarely seen five-bet. Only $16K was left to play, half the pot, and that went in when Kornuth shoved. Unfortunately for him, he was nearly dead with
against
for a flopped flush. That meant a $64K pot for Galfond.
Kornuth scooped up one more decent pot of $21K just before they called it, and that was enough to push him to a small win of $35K.
Hands Played: 500
Results: Chance Kornuth +~$35,000
Full session video
Check out Run it Once Poker and play their ground-breaking sit-n-gos!
Day 17
It took a bit of time for the first big pot to be played, and when it did, Kornuth was the aggressor as he three-bet and then fire half pot on the flop and turn to produce a board of
. Finally, he checked the river with just under the 14K pot left to play. Galfond piled and Kornuth called with
for eights up. However, they were no good as Galfond got the thinnest of value with
.
Galfond won one of the biggest pots of the challenge when he three-bet and called a four-bet, bringing a
flop. Both players checked and a
hit. Galfond bet big with $8,100 and Kornuth called. Galfond piled the
river for $22,944 and Kornuth went into the tank briefly before calling to create a pot of just shy of $73K. Galfond had flopped the nuts with
, and Kornuth had run into a nasty cooler with
.
A seemingly innocuous
flop led to the next big pot. It was just a single-raised pot and Kornuth bet $600 only for Galfond to check-raise to $1,800. Kornuth called and the
arrived. Galfond slowed down with a check. Kornuth potted it and Galfond called. The
paired the board and Galfond just potted it. Kornuth snapped it with
for a straight with full house blockers and Galfond could only muster
for a bluff.
Galfond then turned the aggression up again as he called a three-bet and the board came
. Galfond bet half pot on the flop when checked to then potted turn. Kornuth went nowhere and the river brought the
. Kornuth checked again and Galfond shoved for just under the $21K pot. Kornuth looked him up with
and Galfond had blasted with
.
The players got in a raising war on a
flop and stacks went in.
Galfond:

Kornuth:
Equities were close but it would be Kornuth prevailing as
turn and
river gave Kornuth a full house. Galfond got the stack right back when top two held against aces and a gutter, though.
They played deep for awhile but nothing terribly exciting happened from there on out and Kornuth booked another small win.
Hands Played: 600
Results: Chance Kornuth +~$28,000
Full session video
Day 18
It didn't take long for the first stack to change hands as Galfond three-bet then check-called a
texture. On the
turn, Galfond check-raised all in and Kornuth called with
for two pair and a flush draw. However, Galfond had it all with
for the nuts with a redraw and he held on the river.
A stroke of great fortune arrived for Kornuth when they were over 150 blinds deep and he got a four-bet in only for Galfond to slam in the five-bet. Kornuth peeled and
flopped. That was fine by Galfond, who stuck the rest in with
only for Kornuth to show
for the flopped nuts. Galfond improved, but only to a worthless flush.
In a single-raised pot, Kornuth checked
and Galfond bet $600. Kornuth made it $2,200 on a check-raise and Galfond called to bring a
. Kornuth sized up with $4,800 and Galfond called again. The river was the
and Kornuth could have shoved since Galfond had slightly under the pot left. He went with $11,800 instead and it worked like a charm as Galfond paid it off.
Kornuth continued his momentum in a four-bet pot as
flopped. Galfond potted into and stacks were soon in yet again for a $49K pot.
Galfond:

Kornuth:
The
gave both players straight draws but the
river didn't help Galfond.
Galfond regained some footing with a lucky river when they got stacks in on
, Galfond holding
for two pair and clubs, but Kornuth had him pipped with
. Fortunately for the Run It Once boss, a
arrived. They went to break with Kornuth up $50K.
Kornuth struck back when he cracked Galfond's aces with a rundown in a four-bet pot, flopping a pair plus a wrap and spiking trips on the river.
All the money went in preflop a little after that with Kornuth in a dominating spot. He held
against
. Galfond hit a straight on the river but the same card gave Kornuth a flush and he pocketed another stack.
When the dust had settled, Kornuth had wrapped another big win of an estimated $90K.
Hands Played: TBA
Results: Chance Kornuth +~$90,000
Full session video
Want to know everything about the Galfond Challenge? Check out thePokerNews Galfond Challenge page for more information!