Hear What Viewers Have to Say About Simpson's Stream Satellites!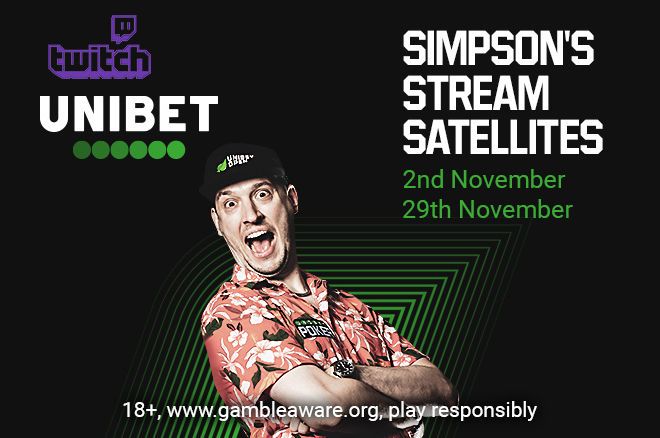 Earlier this month we brought you the news that Ian Simpson's Stream Satellites would be returning to Unibet, allowing qualifiers the chance to battle one another in a satellite-winner only tournament.
Unibet Poker Ambassador Ian Simpson was ecstatic that the promotion was returning, especially after missing out on the final of the first Stream Satellites earlier this year.
With the €5,000 giveaway running until the end of November, you still have a chance of joining Iany in the final, and we caught up with the man himself to see how he and his Twitch poker community are enjoying the promotion.
"Unbelievably I've managed to secure a ticket to the final!" Simpson told PokerNews.
"Although this hasn't entirely stopped the anti-rail however, as a members of our community keep pointing out."
Nightshopper: "I like the Simpson Stream Satellites even more than I even did! Now that Ian has qualified, so we get chances to bust him in the finals."
Simpson said that his stream and poker community continue to love the promotion.
"With the added money being spread out across freerolls, €1 qualifiers and €5 qualifiers, the juice is nicely spread out across the smaller buy in demographics.
"To be honest though even someone with an average buy in of €25 should be flicking in the €5 games to their schedule, since the €100 added to them is effectively 20 players they don't have to outlast to win the €25 prize!"
It is this maths that means that the promotion is accessible to small-stakes grinders as well as the "bread and butter €25" players, as Simpson puts it.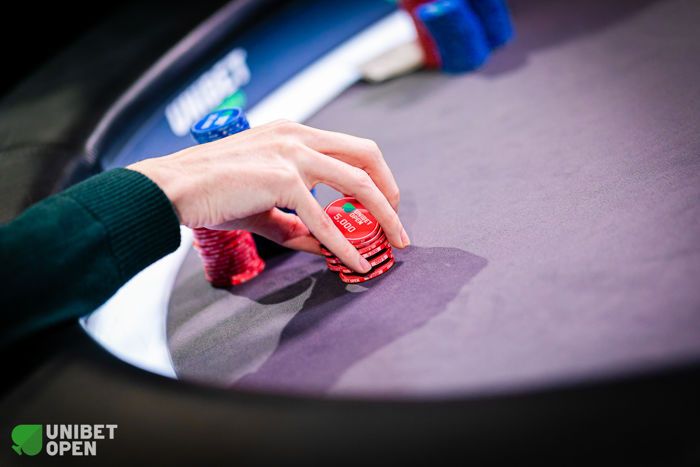 With the final just two weeks away, Simpson and his community are getting even more excited. Here's what several of them had to say about the promotion:
B0rgske: "The whole gang are really getting excited for the €25 final now. I have one ticket already, but I want a second one…"
Elron66: "Simpson's Stream Satellites is a great bankroll builder … thrilled to have a ticket locked up already!"
Miziel: "This year Simpson Stream Satellites will be special, really special – Iany WILL play!"
---
Related: Chase Down a Slice of €30,000 in the Unibet Poker HexaPro Races
---
Simpson Continuing to Grow His Community
With 2020 meaning no access to the live poker community for many, Simpson says that being able to stream poker on Twitch has done wonders for many within his own community.
"I really think being a Twitch streamer has had some major benefits. Having a stream to act as a hub for everyone to congregate in and socialise has really helped keep my spirits up during isolation.
"My Twitch community is made up of lovely people, so having them by my side as I click away at the tables is a real boon that I'll never take for granted. I also know that many of the gang feel the same way. They're always cheering each other on to success at the tables, even if they're on a downswing themselves"
There's still plenty of added money qualifiers left for you to secure your seat. The €25 final takes place on the 29th of November, but remember – you must satellite in if you want to play it!
---
Start Your Unibet Poker Career With This Awesome Welcome Bonus
Download Unibet Poker via PokerNews to receive to a welcome bonus worth up to €200. This bonus is released into your account when you reach certain rake milestones, which means you're constantly receiving more money as you play.
Once you rake €2 at the cash game tables or any tournament (or a combination of both), Unibet Poker places a €1 cash reward in your account. Rake €10 and an additional €4 cash is all yours. Once you've raked a total of €800, you'll have received €200 in your account, the equivalent of 25% cashback, which is a pretty sweet deal.
| Level | Rake | Cash reward | Reward % |
| --- | --- | --- | --- |
| 1 | €2 | €1 | 50% |
| 2 | €10 | €4 | 40% |
| 3 | €50 | €15 | 30% |
| 4 | €150 | €40 | 27% |
| 5 | €588 | €140 | 25% |
The welcome bonus expires after 60-days, which gives you plenty of time to release as much of it as you can.
It's not only the playthrough bonus you receive because new depositing players also get their hands on an invitation to four €500 welcome freeroll tournaments, an €8 cash game ticket, and four €4 Unibet Open satellite tickets.