Phil Ivey Releases "Royal Flush" NFT Collection Via Ethernity Chain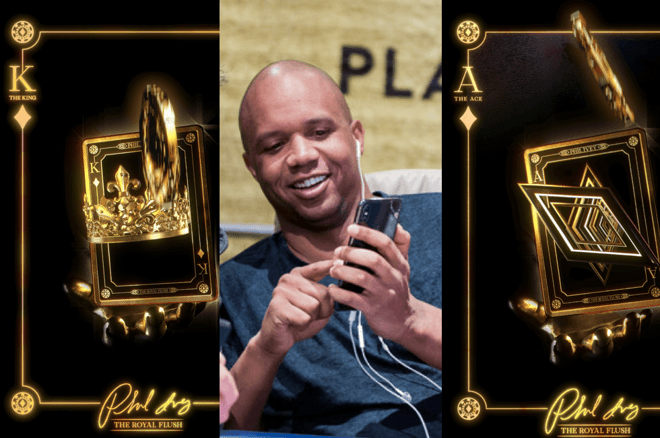 Back in April, the World Poker Tour (WPT) announced they were getting into the world of non-fungible tokens (NFTs) by releasing poker "moments," much like NBA Top Shot has done. Now, one poker player is following in the footsteps of Rob Gronkowski and other stars by releasing his own NFT collection.
Phil Ivey, fresh off winning the $25K WPT Heads-Up Championship, has partnered with Ethernity Chain and Impossible Brief to release an officially-licensed NFT collection, one that commemorates the Poker Hall of Famer's career achievements. The set is available now.
"With Phil Ivey being the icon that he is, we hope that poker will lead by Phil's example by choosing to embrace the future of collectibles," Ethernity Chain said in an announcement.
Ethernity Chain is a community-oriented platform that produces limited edition authenticated NFTs by artists, whereas Impossible Brief is comprised of the creative duo of James Zwadlo and Chris Levett, who looked forward to collaborating with a poker legend.
"Creating the art for this most recent Phil Ivey NFT is the latest 'face' of a sport represented in their extensive portfolio of sports NFT's," the announcement read. "For Impossible Brief, getting the chance to create the licensed Phil Ivey NFT was a 'no-brainer' after previously immortalizing the faces of football (Patrick Mahomes) and baseball (Fernando Tatis Jr.) in recent months."
If you don't know what an NFT is, fear not as there's a short briefer at the bottom of this article.
The Royal Flush Collection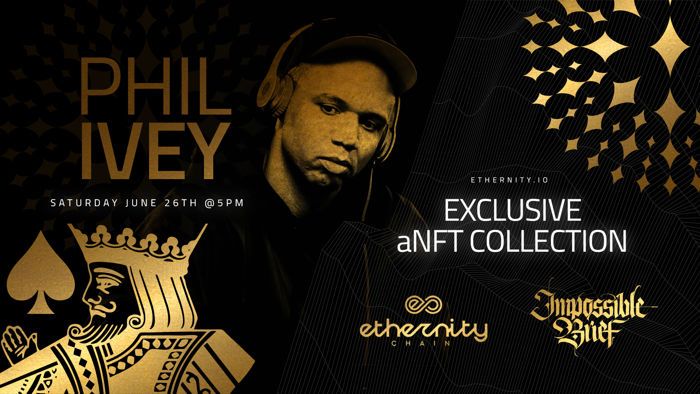 The Phil Ivey collection is titled "The Royal Flush" given there are five different editions represented by each card in Royal Flush – ten, jack, queen, king, and ace. The exclusive NFTs are available at the starting price of $199 ERN, Ethernity's token (crypto currency coin) that you can read about here.
Those who complete a Royal Flush will automatically be entered to have the opportunity to participate in a charity poker game featuring Ivey. It is slated to be a highly curated, real-life game aboard a luxury yacht in Miami this coming fall/winter 2021.
Here's to achieve the "Royal Flush" and get your spot at the table:
Buy the Ten, Jack, Queen, & King NFTs and hold them in your Wallet
Win one of eight Aces up for auction.
Winning Auction Bidders of the 8 Aces who also hold the whole hand (Ten, Jack, Queen, King and Ace) then collect a "Royal Flush" and shall be eligible to make the game in Miami.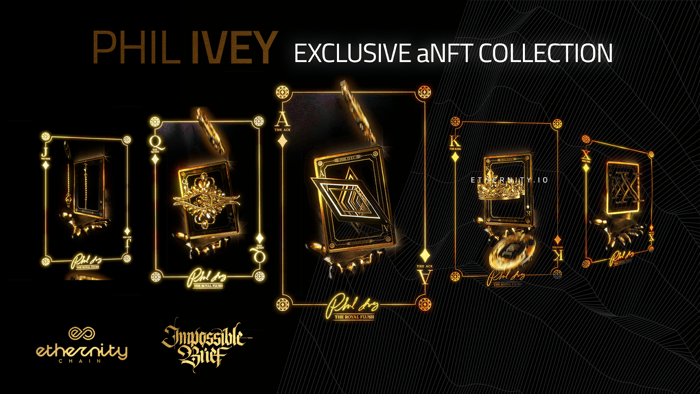 Here's a bit more information on each NFT, which will available for 72 hours or until supplies run out.
The Ten Card – 100 will be available at $199 in ERN. This card is meant to represent the 10 World Series of Poker gold bracelets Ivey has amassed in his career.
The Jack Card – 75 will be available at $500 in ERN. The card represents Ivey being a "jack of all trades" when it comes to poker moves.
The Queen Card – 50 will be available at $999 in ERN. The card is meant to capture Ivey's intimidating glare, or as the description states: "Ivey's eyes reflect that of a ruling royal; calm, steady, meticulous and domineering."
The King Card – 20 will be available at $1,999 in ERN. Given he's arguably the best player in the game, Ivey is the "king of poker."
The Ace Card – Only eight will be available, each auctioned off with a reserve price starting at $4,000 in ERN. The auction will last 72 hours.
"Phil Ivey will always be regarded as an ace-level renegade within the poker world," the description reads. "When it matters most, Ivey always ups the ante and stays consistent in his dominance. Instead of staying within the tournament circuit, Ivey more often wagers up by playing in all-cash games, now that is ace-level play."
A Brief Explanation of NFTs
Here's how Wikipedia explains it to the layman: "A non-fungible token is a unit of data stored on a digital ledger, called a blockchain, that certifies a digital asset to be unique and therefore not interchangeable. NFTs can be used to represent items such as photos, videos, audio, and other types of digital files."
When the WPT launched their NFTs, PokerNews senior editor Mo Nuwwarah offered the following primer.
Essentially, NFTs are digital collectibles — the later being the "token" part of the equation.
The "non-fungible" part means each one is unique — they aren't interchangeable the way two monetary notes of the same denomination would be. However, this can be a bit misleading. Each token is unique in the sense that it has its own identity on the blockchain, but other tokens may have the same appearance the same way two identical football cards do.
Here are a few key points from the BBC's article on the matter from March, during perhaps the height of NFT craze to date:
NFTs are "one-of-a-kind" assets in the digital world that can be bought and sold like any other piece of property, but they have no tangible form of their own.
The digital tokens can be thought of as certificates of ownership for virtual or physical assets.
As with crypto-currency, a record of who owns what is stored on a shared ledger known as the blockchain.
The records cannot be forged.
Interest has been fueled by recent headlines of multi-million-dollar sales.