Simpson Stream Satellites RETURN to Unibet this November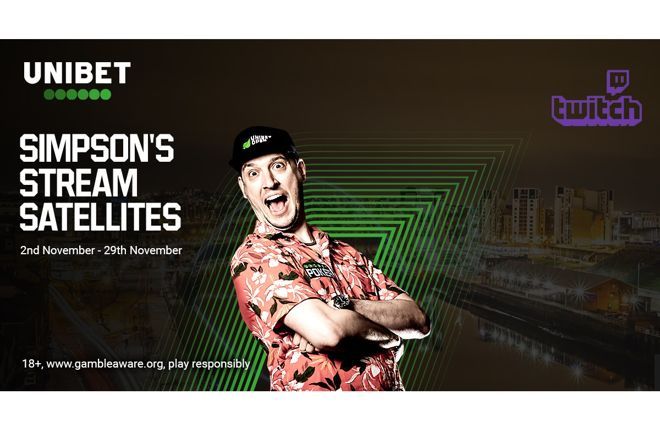 Back in June, Unibet ran a popular Stream Satellites promotion, allowing players to avoid the sharks and play against fellow qualifiers in a small buy-in final, broadcast on Unibet Ambassador Ian Simpson's Twitch channel. Well now he's back and they're doing it again!
---
A few months ago we ran a really successful promotion on Unibet revolving around my Twitch stream. We're doing it again, but Unibet have been super generous and given me €5,000 to give away to the players!
How Stream Satellites Work
It's the same premise as last time. We have a satellite tree for you to navigate to get into the €25 final. But here's the kicker, nobody can directly buy into the €25 final. You MUST qualify for it.
You can play freerolls to win €1 tickets. You can play €1 games to win €5 tickets and you can play the €5 finals to get the coveted €25 ticket. You can directly buy in to any qualifier. All but a few of the qualifiers have tickets added to them. For example we have €1 qualifiers with 20x€5 tickets added to the prizepool. That's 100 buy ins worth of free value!
---
READ MORE: Your Ultimate Guide to Unibet Poker Challenges & Missions
---
I've designed this promotion with a view to mainly give value to the micro and small stakes grinders. If you're a freeroll grinder, or a nano, or a low stakes player then the added value to these tournaments makes them ideal for you. The mid stakes grinders also have incentive, as a €25 tournament with lots of money being poured into it via the satellites is a dream tournament – you just have to qualify yourself at the €5 level! Last time we ran this, one of my regulars on Twitch finished in 3rd after qualifying via the freerolls and got their biggest ever online score in the process. It was really exciting to rail a small stakes player who got their chance to make a score in a bigger buy in tournament.
| Buy-in | Tickets | Details |
| --- | --- | --- |
| €0 | 50 x €1 | Freeroll – password issued on stream |
| €1 | 10 x €5 | Cash or specific ticket buy-in |
| €5 | 2 x €25 | Specific ticket only buy-in |
| €25 |   | Final – 1 x rebuy with ticket only |
Last Longer Competition
I've also built in a big thank you to my Twitch followers. We're having a Last Longer competition with €500 in tickets being given away. The winner will get a €250 UK tour ticket, 2nd and 3rd will get €100 Supernova Tickets and 4th will get a €50 MTT ticket. Whoever lasts the longest from the regulars on my Twitch channel will have access to this extra value.
Now you may remember a rather embarrassing incident from the last time we did this. I failed to qualify for my own bloody tournament, whilst my fellow ambassador David Lappin bagged himself a seat. I'm pretty damn determined to not let this catastrophe repeat itself, so the pressure is certainly on!
I'll be streaming this promotion on my Twitch channel so make sure to come on by to join in the excitement. We've got an incredibly friendly, funny and supportive community and we're always happy to welcome new people to our channel, so now is a great time to pop on by and get involved.
---
Sign Up to Take Part
Signing up to Unibet Poker via PokerNews entitles you to a welcome bonus worth up to €200. This bonus is released into your account when you reach certain rake milestones, which means you're constantly receiving more money as you play.
Once you rake €2 at the cash game tables or any tournament (or a combination of both), Unibet Poker places a €1 cash reward in your account. Rake €10 and an additional €4 cash is all yours. Once you've raked a total of €800, you'll have received €200 in your account, equivalent of 25% cashback, which is a pretty sweet deal.
| Level | Rake | Cash reward | Reward % |
| --- | --- | --- | --- |
| 1 | €2 | €1 | 50% |
| 2 | €10 | €4 | 40% |
| 3 | €50 | €15 | 30% |
| 4 | €150 | €40 | 27% |
| 5 | €588 | €140 | 25% |
The bonus expires 60-days after you create your account so get your grind on and see how much cash you can earn.
In addition to the welcome bonus, new players are invited to four weekly €500 freeroll tournaments, which run on Sundays, receive an €8 cash game ticket when you make a deposit and four €4 Unibet Open tickets. There literally hasn't been a better time to become a Unibet Poker player, so click the download link and start reaping the rewards straight away.