Three Promos to Watch: Don't Miss This Trio of Offers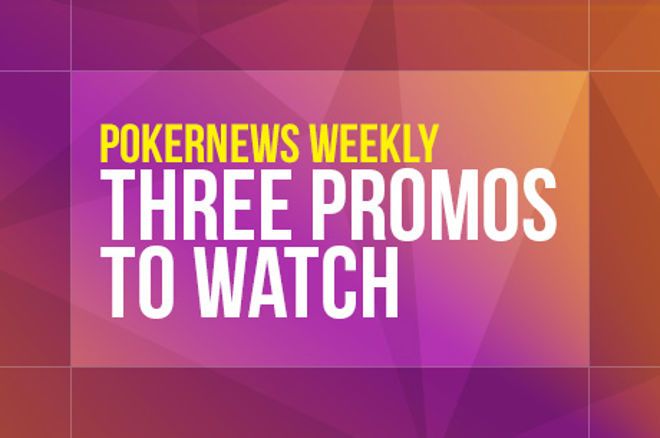 You really need to get involved in the trio of promotions featuring in our Three Promos to Watch article if you are a fan of adding value to your poker session. We don't know any poker player who doesn't like some added extras when it comes to playing this crazy game and boy do we have some excellent promotions for you this week.
The Unibet Poker €40,000 Flop Races
Cash game players have their own special promotion taking place at Unibet Poker. The €40,000 Flop Races started on October 12 and continue through to November 15.
As the name suggests, the promotion revolves around seeing flops in cash games. You receive leaderboard points for every flop you see. The more flops you see, the more points you get your hands on, and the more likely it is you'll win a prize.
More points are awarded for seeing flops in higher stakes games, but you're not at a disadvantage by playing lower stakes. This is because Unibet Poker has split the €40,000 Flop Races leaderboards into three, each based on the stakes played for. This means you'll only be competing against Unibet Poker players who frequent similar games to yours.
| Multiplier | Low | Mid | High |
| --- | --- | --- | --- |
| 1 | NL10, Banzai €20 | NL50 | NL200 |
| 1.5 | PL10, NL25 | PL50, NL100 | PL200, NL400 |
| 2 | PL25 | PL100 | PL400 |
You also receive bonus point each time you see 100 flops in a day. Unibet Poker gifts you 20 points for hitting this total.
Don't worry if you're having a tough time at the tables because Unibet Poker has your back. You bank a point for every euro you lose at the tables each day, up until you reach the daily cap.
Low: €10/10 points
Mid: €50/50 points
High: €200/200 points
Find out more about the €40K Flop Races
Win Your Way Into the Inaugural EPT Online Main Event
PokerStars is hosting the first-ever European Poker Tour (EPT) Online festival. With live poker festivals up in the air right now, PokerStars has decided to run an online version of the long-running EPT.
EPT Online runs from November 8-18 and it is the $5,200 buy-in Main Event that has everyone talking, not least because it has a massive $5 million guarantee on its prize pool.
$5,200 is a lot of money for the majority of poker players to fork out on a single tournament so PokerStars is running dozens of satellites. There's a satellite for every PokerStars player, regardless of the size of their bankrolls.
The $530 buy-in satellites are where the $5,200 EPT Online Main Event seats can be won, but you can win your way into these bigger sats via $5.50 games.
| Buy-in | Guarantee |
| --- | --- |
| $5.50 | 3-5 x $55 Satellite Seats |
| $11 | 3 x $109 Satellite Seats |
| $55 | 3 x $530 Satellite Seats |
| $109 | 3 x $530 Satellite Seats |
| $530 | 2 x $5,200 EPT Online Main Event Tickets |
The EPT Online Main Event is going to be spectacular. Will you be part of the action?
Find out more about $20M Gtd EPT Online Festival
Turn $5 Into $1 Million In Minutes at partypoker
SPINS are partypoker's take on jackpot sit & go tournaments, where the prize pool is randomly determined before the first hands are dealt.
You're prize pool multiplier will be at the lower end of the scale in the majority of SPINS you play, but partypoker's $5 buy-in games make it possible to win $1 million and in a matter of minutes thanks to the hyper-turbo structure.
Hitting the 240,000-times multiplier is rare but it's definitely worth the wait. Triggering it guarantees you at least $100,000 because all three entrants are paid when the multiplier is 120x or above. Taking down a SPINS tournament with the top multiplier awards you with a massive $1 million payout!
Two players have won the $1 million jackpot so far, will you become number three?
| Multiplier | 1st place | 2nd place | 3rd place | Frequency in 10M Games |
| --- | --- | --- | --- | --- |
| 240,000 | $1,000,000 | $100,000 | $100,000 | 1 |
| 1,200 | $5,000 | $500 | $500 | 10 |
| 120 | $5,000 | $50 | $50 | 100 |
| 25 | $125 |   |   | 1,000 |
| 10 | $50 |   |   | 100,000 |
| 5 | $25 |   |   | 1,000,000 |
| 3 | $15 |   |   | 3,513,223 |
| 2 | $10 |   |   | 5,385,666 |