TODAY: Last Chance to Win a $5,200 EPT Online Main Event Seat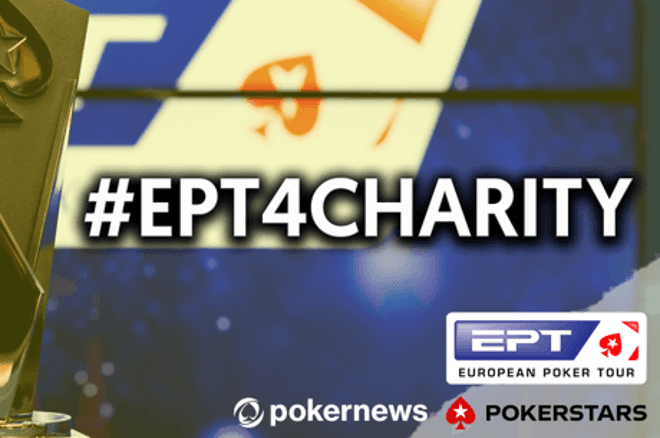 A lot of company's scream and shout about time running out to enter their promotions but time really is of the essence if you want to get your hands on a free $5,200 EPT Online Main Event seat.
The $5,200 buy-in EPT 2020 EPT Online Main Event kicks off at 18:05 GMT on November 15 and features a mouth-watering $5 million guarantee. PokerNews is giving you the chance to compete for a share of this seven-figure sum in exchange for a couple of minutes of your time.
You only have until 23:59 PST today, November 11, to enter this fun competition. Read on to find out HOW!
How To Win a Free $5,200 EPT Online Main Event Seat
Whoever wins the free $5,200 EPT Online Main Event seat is going to be freerolling towards a huge payout of several hundred thousand dollars. All we ask is you get onboard with the #EPT4Charity campaign and pledge to donate 10% of any winnings to this fantastic cause.
The mechanics of this promotion are simple enough for everyone to get involved in. Make a short 1-2 minute video clip explaining a little about yourself and the charity that will benefit from you winning the free Main Event seat. It's as simple as that. You don't have to be the next Steven Spielberg to produce a video short, but extra credit will be given to the most creative clips!
Familiarize yourself with the basic terms and conditions below:
Make a 1-2 minute video clip telling us a little about yourself, what charity you'd donate to, and why. Be creative.
The link to your video must be shared on Twitter using the hashtag #EPT4Charity. You must also email the video/tweet links to [email protected] Put your name in the subject line, and include the following information in the email text: Name … Country of origin … short bio (tell us who you are in five sentences) … Link to your video/tweet.
10 finalists will be determined by PokerNews with those videos being compiled for a selected jury to ultimately pick a winner.
The winner will not only receive a $5,200 ticket (non-transferable) into the EPT Online Main Event, but PokerNews will also give you the VIP treatment with an interview and featured coverage in the live updates.
Remember, you must have a PokerStars account and live in an eligible territory (sorry players from the USA).
Securing this amazing prize not only gives you the chance to play in a $5 million guaranteed event for no financial outlay but also gives you the opportunity to do something great for the world. A lot of people are struggling right now with the unprecedented pandemic that's gripping the planet, donating 10% of your winnings to the #EPT4Charity cause will go a long way to making life better for the less fortunate people in the world. Imagine the feel-good factor of being able to donate $70,000 or more, although every dollar counts, not only massive donations.
Don't worry if you don't win this free seat but still want to try become the inaugural EPT Online Main Event champion because there are a plethora of satellites feeding into this tournament.
These satellite are running right now, head to the PokerStars client to check out the full schedule. They start at only $5.50 and feed into a $530 buy-in satellite where the $5,200 EPT Online Main Event tickets are awarded.
Good luck with whichever route you take!
The Stars Group is a majority shareholder in Oddschecker Global Media, the parent company of PokerNews.